You Are Invited To Experience
Your Authentic-Self & Your Soul
My Dear Friends,
I personally approach you with unconditional love in my heart and embrace you no matter your human condition because of who I've become. A man who discovered, against all odds, his actual soul.
The suffering in me, honors the suffering in you.
Becoming a hippie in high school was a wonderful experience but also led me down a path escalating into an addiction to drugs, plunging me into the pain of darkness by the time I was 17. Imagine the self-imposed layers of emotional pain, guilt, remorse and damage to my character I faced as a young adult.
Experiencing the Authentic Soul
The light, from my near-death-like experience at 11 which filled me with an unconditional love, had become buried in dark emptiness. But the quest to discover myself authentic-self again led me to figure out what blocks me.
Layers of Emotional Pain
Digging through layers of emotional pain, held in place by false perceptions, revealed my authentic-self in ever increasing measure until I realized that the unconditional love emanating from my soul was missing from every layer of emotional pain.
Emotional Pain is the Absence of Divine Love.
The Dig
The Dig is a method of self-discovery I developed over the years that transforms my emotional pain into unconditional love. Beginning with the limited perspective of our story, we dig to discover the fears and anger that have sprouted as defenses against touching our pain. But leaving the story behind allows us to perceive our emotional pain as energy instead of psychology. Looking inside this pain body, the epiphany manifests: The energy of unconditional love is absent within the pain body.
The Solution
Once we grasp that a particular pain exists because our story is keeping love from entering, we find "The Payoff" – There is some form of benefit we are deriving from holding on to our pain. Once we discover this, we are free to either let go of the pain or keep it. If we are not ready yet, no worries, the pain is not going anywhere.
If I hear with my ears, I'll imagine.
If I see with my eyes, I'll believe.
If I experience with my soul, I'll know.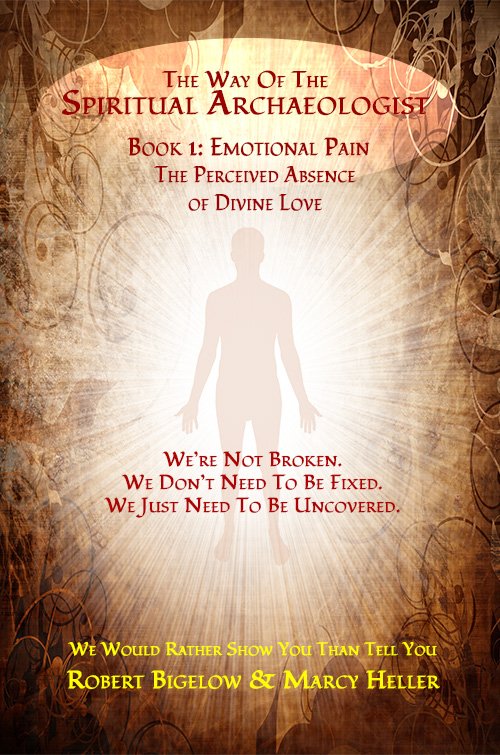 We're not broken.
We don't need to be fixed.
We just need to be uncovered.
Unconditional Love:
From the perspective of The Spiritual Archaeologist, you are accepted as you are because there are no conditions to unconditional love. This is the type of love buried within yourself as your authentic-self and your soul that we hope to help you discover.
Emotional Pain is the Absence of Love:
Like a thorn in our psyche, emotional pain is created when we encounter a situation which we perceive lacks love. To us, the lack of love hurts.
Fear is the Anticipation of Pain:
Pain creates fear. Our brains are wired to recoil from physical pain to keep us from harm. But when we fear emotional pain, the pain remains. Prolonged fear becomes anxiety.
Anger is the Expression of Pain:
Anger, is an offensive response to pain. Inflicting pain onto others soothes the savage beast. Anger can manifest in different forms. Frustration can be a form of anger.
Layers of Pain:
These pains embed themselves as hidden layers held in place by limited perceptions, one on top another, clouding our experience of the soul. The more pain, the less we feel unconditional love.
Self-Discovery is Always the Best:
The Dig, if it becomes a way of life, excavates these layers one by one, until none remain. Then, we will know freedom from emotional pain. We will not become someone, we will uncover who we really are. This is the process of self-discovery.
A Personal Experience:
The Dig is the personal experience of turning emotional pain into love. Leaving behind the story and beliefs surrounding our pain, we begin to see emotional pain as energy. When we discover that the energy of love is missing within the pain body itself, a transformation begins.
The Result:
As each layer of emotional pain is removed, we discover who we are. The character flaws and dysfunctional behaviors born from the pain begin to fall away.
Peace and happiness, as innate aspects of our soul, replace the pains.
We awaken to our authentic-self
as the soul enlightens our minds.
We Would Rather Show You Than Tell You
My first session lead me to the tearful discovery of a hidden layer of pain that was greatly influencing my life. Healing this felt so great I've continued. 7 years later, a director of a recovery program, my team is using unconditional love as a primary tool.
The emotional pain of loss of my girlfriend in 2016, led me to seeking the Divine just like my dad taught me. My humanity fell back on itself and the veil of humanity was lifted, leaving just the overwhelming presence of the divine within the spiritual realm.
Robert Bigelow is an amazing spiritual healer and more. He has changed my life in so many ways. His gift is about releasing the pain body which we all carry with us in this life and beyond. I was able to release pain from my childhood which was impacting my present reality. I give him the highest praise and recommend him to anyone who wants to move forward into their Divine nature!
I'm a world-class jiu-jitsu competitor. As a women have had to push myself extra hard. I learned from Robert that even though my pain was channeled in a positive manner, it still existed. Afraid of loosing my motivation to train for the next event, he said "Don't worry, its not going anywhere." We laughed and I held on to it until I won the competition. But then, I let it go and found peace… Thank you.
After loosing hundreds of pounds from surgery I still felt horrible about myself. I thought it would change everything. I had four sessions with Robert. Whew… No wonder I felt so depressed. I had so much pain that had nothing to do with my weight. A year later I'm happy for the first time in decades.
The Tree of Pain Life Cycle
A full explanation of The Tree of Pain Life Cycle can be found within the book.